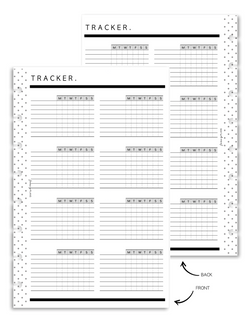 Weekly Tracker Breakdown Fill Paper
Stay organized and effectively manage your key weekly tasks with our weekly tracker breakdown inserts. Designed to keep you on top of your responsibilities, our inserts provide a comprehensive tool for staying organized and productive.
---
 Specifications
No Physical Item Will Be Mailed
Page Size formatted for Classic HP Size Planner
Colors as seen on your monitor may vary slightly from the printed product. Things like monitor settings, ink cartridges, and even the type of paper you use affect the final result. 
---
 For inspiration on how to use our planner and stationery products check out our YouTube series.