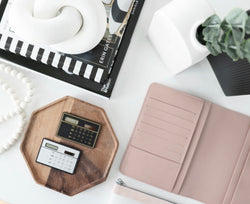 Planner Consultation Service
Here at Fancy Plans Co, we believe there is a planner product for everyone. Our Planner Consultation Services are set up for you to meet with one of our specialists that know Fancy Plans products inside and out. We will work with you to build a functional system that helps you accomplish all of your goals.
Each consultation includes:
A one-on-one audio Zoom call with a Fancy Plans consultant,

A questionnaire sent after your booking/payment process to prepare you and your consultant for your meeting, 

A customized Product Recommendation Guide for you to shop from.
All consultation appointment times occur in Eastern Standard Time (EST). Consultations are for ONE customer ONLY, and are designed to assist with one planning system at a time. If you would like assistance with building several planning systems, you will need to purchase an additional package for each system. Coupons and discount codes cannot be applied to Planner Consultation Services. We reserve the right to, and will cancel any order that skirts this rule. Consultations are non-refundable and non-transferable. Recommended products are NOT included in the price of the consultation.
If you need to reschedule your appointment, you'll need to reach out to us via email at least 24 hours prior to your appointment time. (Email us at CS@fancyplansco.com) We will do our best to accommodate and reschedule your appointment with the consultant that you initially chose during your booking process, but we reserve the right to re-book you with another consultant.
The questionnaire is designed to give our consultants a better understanding of your needs and aesthetic. This ensures that we use your 30-minute appointment in the most efficient manner. Please complete this questionnaire immediately upon receipt. If it is not completed at least 24 hours before your scheduled appointment, we reserve the right to cancel your appointment. (non-refundable) If you need to confirm whether we have received it or not, you can email us at CS@fancyplansco.com.
Your Product Recommendation Guide will be sent to you within 3 business days after your appointment is completed. Please keep in mind that this does NOT include weekends or major holidays. If your appointment occurs on a Friday at 2pm EST, the consultant will have your Product Recommendation Guide to you by the following Wednesday at 2pm EST. If your appointment occurs on a Saturday, the consultant will have your Product Recommendation Guide to you by the following Thursday morning.
Please keep in mind that because this service is non-refundable, we are unable to accept cancellations for refund. We will work with you to reschedule your appointment if you give us at least 24 hours notice.
Package Types:
Basic Consult - This consultation package consists of one 30-min Zoom call where you and the Fancy Plans Co. consultant will discuss your day-to-day life, including your current planner system (if one already exists), as well as any special needs you may have. Within 3 business days, your consultant will email you a product recommendation guide, based on your consultation. This guide will contain links to all recommended products, so that you can shop and check out immediately.
Consultation services are NON-REFUNDABLE. 
Please note: all Fancy Plans Co. Zoom calls are recorded to allow our consultants an opportunity to reference the consultation and make appropriate notes. Calls will be deleted within 48 business hours. By joining the Zoom call, you agree to our Terms and Conditions, and you agree to be recorded.