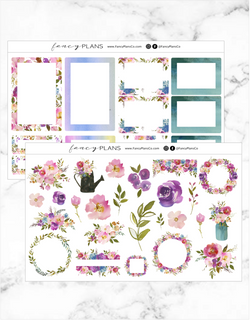 Watercolor Spring Lush | BOXES + FLORALS
Welcome the vibrant spirit of spring with our Watercolor Spring Lush stickers! Elevate your planner with stunning floral boxes and intricate florals, infusing every page with natural beauty. Ideal for planners seeking elegance, these stickers transform organization into an artful journey. Elevate your planning experience with our captivating Watercolor Spring Lush stickers now!
---
 INCLUDES:
2 Sticker Sheets
44 Stickers
4.5 x 7 inches
NO SUBJECTS INCLUDED
Please Note:

Colors as seen on your monitor may slightly vary from the printed product. Things like monitor settings, ink cartridges, and even the type of paper you use affect the final result. 
---
For inspiration on how to use our planner and stationery products check out our YouTube series.