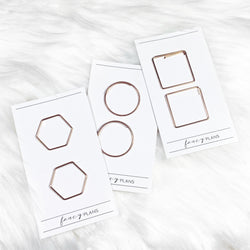 Geometric Paper clip | ROSE GOLD
Elevate organization with our rose gold geometric paper clip. Add a touch of elegance to documents while enhancing desk aesthetics. Perfect for modern professionals, this stylish clip fuses form and function seamlessly. Upgrade your workspace with this captivating gold geometric paper clip today!
---
 INCLUDES:
Colors as seen on your monitor may slightly vary from the printed product. Things like monitor settings, ink cartridges, and even the type of paper you use affect the final result. 
---
For inspiration on how to use our planner and stationery products check out our YouTube series.