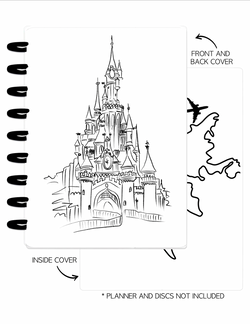 Cover Set of 2 TRAVEL IS MY THERAPY Princess Castle
These Fancy Plans Co. Laminated planner covers provide durable protection for your planner while also adding a touch of style. With a range of colors, patterns, and designs to choose from, these covers are perfect for keeping your planner safe and secure, whether you're on the go or at home. These laminated covers are also water-resistant, easy to clean, and can withstand everyday wear and tear, making them an ideal choice for those who use their planners frequently. Add visuals interest and Invest in a Fancy Plans Co. laminated planner cover to keep your schedule organized and looking great! 
---
 Specifications
1 Set of 2
10 Mil Lamination

Double sided print so that you can easily change your look
---
Please Note:

Colors as seen in your monitor may slightly vary from the printed product. Things like monitor settings, ink cartridges, and even the type of paper you use affect the final result. 
---
For inspiration on how to use our planner and stationery products check out our YouTube series.