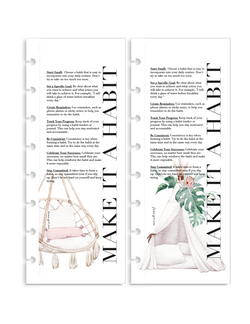 Fancy Plans Co. planner page finder, is the perfect accessory for your planner or journal. Tired of flipping through endless pages to find the one you need? Our page finder makes it easy to quickly locate your most important pages, so you can stay organized and on track.
Our page finder is also easy to use. Simply slide it onto the page you want to mark and you're done. No more wasting time searching for the right page or losing your place in your planner.
Upgrade your planner game with our page finder and experience the ultimate in convenience and organization.
---
Digital Collection Club Access

Available until April 27, 2023
---
 Specifications
Printable Dashboard
No Physical Item Will Be Mailed To You
Digital
---
Additional Notes

Colors as seen in your monitor may slightly vary from the printed product. Things like monitor settings, ink cartridges, and even the type of paper you use affect the final result. 
---
For inspiration on how to use our planner and stationery products check out our YouTube series.
---
Copyright © [2017-2023] Fancy Plans Co. All rights reserved.

This copyright statement applies to all original content on the Fancy Plans Co. website, including but not limited to text, images, graphics, logos, icons, audio and video clips, software, and downloadable files. This content is protected by U.S. and international copyright laws and may not be reproduced, distributed, transmitted, displayed, or otherwise exploited without the prior written permission of Fancy Plans Co.
Any unauthorized use of this content may violate copyright, trademark, and other applicable laws and could result in legal action. Fancy Plans Co. reserves the right to modify or revoke this copyright statement at any time without notice.
For inquiries regarding the use of Fancy Plans Co.'s copyrighted material, please contact us at cs@FancyPlansCo.com.