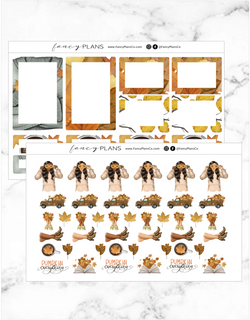 Autumn Breeze PATTERNED | BOXES + ICONS
Bring a touch of charm to your planner with our planner sticker sheets! These high-quality stickers are the perfect addition to your planner setup, featuring colorful floral designs and cheerful springtime quotes.
Crafted with durable materials, our planner stickers are designed to last and withstand the wear and tear of daily use. Each sheet includes a variety of sticker designs, including decorative stickers, functional stickers, and more, making it easy to customize your planner pages and add a pop of color and personality.
With its compact size and easy-to-use design, our planner sticker sheets are a must-have for any planner enthusiast. Simply peel and stick to your planner pages, and you'll have a dedicated spot to keep track of your tasks, appointments, and goals.
Our planner sticker sheets come in a variety of designs to match your personal style, making it easy to find the perfect set for your springtime planner setup. Whether you're looking to organize your planner or simply add a touch of fun and creativity, our planner sticker sheets are the perfect solution.
---
 Specifications
2 Sticker Sheets
30 Stickers
4.5 x 7 inches
---
Colors as seen in your monitor may slightly vary from the printed product. Things like monitor settings, ink cartridges, and even the type of paper you use affect the final result. 
---
For inspiration on how to use our planner and stationery products check out our YouTube series.