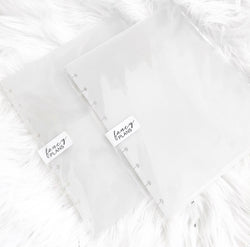 Transparent Poly Plastic Planner Covers | FROSTED
 These Fancy Plans Co. frosted covers are the perfect addition to your planner or stationery collection.
2 plastic covers (1 front and 1 back)
Various sizes to choose from 

35 mil thick
Colors as seen in your monitor may slightly vary from the printed product. Things like monitor settings, ink cartridges, and even the type of paper you use affect the final result. 
---
For inspiration on how to use our planner and stationery products check out our YouTube series.